Ila Magazine File / Artist Rafa Nasiri
1940 - 2013
Ila
Rafa Nasiri is a renowned contemporary Iraqi painter, known for his compositions (described by critics as "cosmicscapes") drawing cues from modern abstract art (particularly Abstract Expressionism/Tachisme) as well as using Arabic calligraphy and other cultural elements.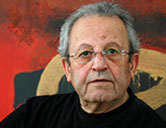 ملف مجلة إلى / عام على رحيل الفنان المبدع رافع الناصري
علي رشيد
عام مرّ على رحيل الفنان رافع الناصري ، عام مرّ على خسارتنا له ، وخسارة الفن العراقي ، والعربي لتجاربه وبحثه البصري الذي امتدّ طيلة نصف قرن وأكثر ، بل خسارة الوطن الغافل عن خسارته له
في المساء
وليد رشيد القيسي
إلى كريم رسن
يطلّ من نافذتهِ " عاريا " بذكرى أشياءه
فاذا بها سقفَاً مقلوباً
وفوُقها خطوط وحائط رطبُ
مرة لونا ومرة خطاً أسود
يطليِ بها همومهُ ، ويدون لوجوهِ صارت جزءاً منه .
يتساءل ، وهو اعزلَ لايملكُ غير الرماد في حقيبتهِ
وبعضاً من كلماتِ صارت دفاترَ عتيقة ،
كان جسدهُ يتلذذ بفعل الخراب الذي لم يُفارقهُ " بغداد "
واليوم يرسمُ هجرتهُ
Kareem Risaqn : Steps in Migration
Meet Gallery
8 December 2014 - 10 January 2015
Meem Gallery is pleased to present Steps in Migration, Iraqi artist Kareem Risan's first solo exhibition at the gallery and in the United Arab Emirates. Since migrating from Baghdad to Toronto in 2008,Kareem Risan has visually documented his experience of living in exile while watching the destruction of his homeland from afar. Steps in
.
Entrevista
Muhsin Al-Ramli :
"Después de terminar esta novela, cambié totalmente"
Por: Alexandra Atiya
Hemos hablado con el novelista Iraquí Muhsin Al-Ramli, sobre su novela "Dedos de Dátiles", traducida al inglés por Luke Leafgre y al italiano por Federica Pistono (2014), una novela que comienza con el despertar de la destrucción:
1. Cuándo creó esta novela ¿se vió Vd. construyéndola sobre otro trabajo literario previo?? ¿Español, árabe, otro? ¿Qué tipo de novela prefiere Vd.?
Haikus
Guillermo Ibáñez
Amanecido,
el rocío da luces
sobre el césped.
Mientras brilla,
oculta en ocaso
vigila el alba.
Artist Studio
We cannot consider the work of the artist away from his live and personal entity, for his studio ,that the artist  transforms to a tower in which he brings out his worshiped  rituals and visions, forms a basic corner in his artistic production.
design: gitta pardoel logo: modhir ahmed © ila-magazine